JUNE 04, 2022
16 min Read
African Tech Weekly Recap: May 30 to June 3, 2022
Welcome to our weekly recap where we share the most important news of the week in the African Tech Ecosystem 🌍
To get access to our Daily investor updates check us out 👇
https://dabafinance.com/investors-update
Nigeria-based Betastore gets $2.5m for African expansion
Highlights
With operations spread across Nigeria, Senegal, and Ivory Coast, BetaStore, a tech-enabled B2B retail startup, has closed a $2.5 million pre-series A funding round.
BetaStore makes it possible for small businesses to seamlessly source their inventory and access capital to scale their business growth.
The fund was received from 500 Global, VestedWorld, and Loyal VC, bringing the investment raised by BetaStore to $3 million to date. It will enable an expansion into Ghana, the Democratic Republic of Congo, and Cameroon by the end of this year and the launch of a financing product in July.
Source: TechEconomy

Our Takeaway
It's easy to see why VC funding is increasingly pouring into the B2B e-commerce space space. More than $600 billion of consumer goods are sold in Africa through informal retail channels every year, supplying the vast majority of the 1.2 billion population yet the industry is faced with several challenges, such as stockouts, lack of working capital, etc, which can be addressed, profitably, with digitization.
---
Nigerian-founded NFT Platform, Ayoken, raises $1.4m
Highlights
Ayoken, a digital collectibles marketplace connecting creators in emerging markets like Africa to global audiences, has raised $1.4 million in pre-seed funding.
The investment was raised from Founders Factory Africa, Texas-based Kon Ventures, Europe-based venture capital collective Crypto League, Ghana-based R9C Ventures, and Maximus Ventures.
Founded by Joshua King and headquartered in London, Ayoken plans to use the pre-seed funding to expand its team and presence across countries, and also sign a number of exclusive deals with artists and partnerships with telcos.
Source: TechCrunch
Our Takeaway
Artists and other players in the NFTs space across Africa are confronted with several challenges in accessing the marketplaces. Regardless, we expect NFT adoption in Africa will continue to soar, particularly in countries where they've become widely popular due to a growing interest from artists, entertainers, and investors. And this is evident in the emergence of Africa-focused platforms such as Ayoken.
---
Elon Musk's Starlink approved by Nigeria and Mozambique
Highlights
Elon Musk announced in a tweet on Friday that Starlink, the satellite internet service launched by SpaceX, his space exploration company, has been approved in Nigeria and Mozambique.
Starlink operates in more than 30 countries where it is legally approved, in essence, where it has required licenses to provide internet services.
Its launch in Africa, particularly in Nigeria, has been in the works since 2021 and according to reports from local media reports, the Nigerian communications regulator has approved this license, corroborating Musk's tweet.
Source: TechCrunch

Our Takeaway
African governments have made huge strides in making the internet accessible for their 1.2 billion people. But with just 22% internet connectivity, the continent remains significantly behind other regions in the world. It needs between $70-$100 billion annually to address its existing infrastructure gap while most of the current and past direct investments have been poured into terrestrial networks run by leading telecom players like MTN, Airtel and Orange. Starlink's satellite internet thus offers a unique proposition but its ability to compete with existing players will depend on how well it can lower cost of adoption.
icInvest closes African midcap-focused fund at over $400m
Highlights
AfricInvest, a leading investment platform active in multiple alternative asset classes, has announced the final close of its AfricInvest Fund IV with total commitments of $411 million.
Launched two years ago with a hard cap of $400 million, AfricInvest IV received investment from new and returning institutional investors, development finance institutions, and family offices from around the world.
The fund is the largest in AfricInvest's history and follows on from the previous flagship fund, AfricInvest III, which closed in 2016, reaching a fund size of $300 million.
Source: Disrupt Africa

Our Takeaway
Like its predecessors, the AfricInvest IV fund aims to invest in mature and profitable African mid-cap companies across diverse sectors and also supports inclusive and sustainable development, having committed to the 2X Challenge criteria in support of women's economic empowerment. Over the last 25 years, AfricInvest has raised more than $2 billion to finance almost 200 companies at various development stages across three continents, including Africa.
---
Egypt's CASF backs South Africa's Finclusion Group
Highlights
Egypt-based micro VC fund The Cairo Angels Syndicate Fund (CASF) has invested an undisclosed amount in the South Africa-based fintech startup, Finclusion Group.
Founded in 2019 by Timothy Nuy, Finclusion Group is an Africa-focused digital bank platform, offering earned-wage access, BNPL, and direct credit to its clients.
With a presence in South Africa, Eswatini, Namibia, Kenya, and Tanzania, the funding will help Finclusion in its future geographic expansion.
Source: Wamda

Our Takeaway
In what was a record year for venture funding in Africa, startups on the continent raised more than $4 billion in 2021. This year, African startups secured more than $2 billion in four months, prompting predictions startup funding in Africa may reach $7-$8 billion at the end of 2022. For Cairo Angels, it sees an opportunity in the fact that despite this growth, early-stage African startups still only draw a fraction of the funding available. The Finclusion Group deal is its third investment in Africa.
---
South Africa unveils new strategy to lure more investment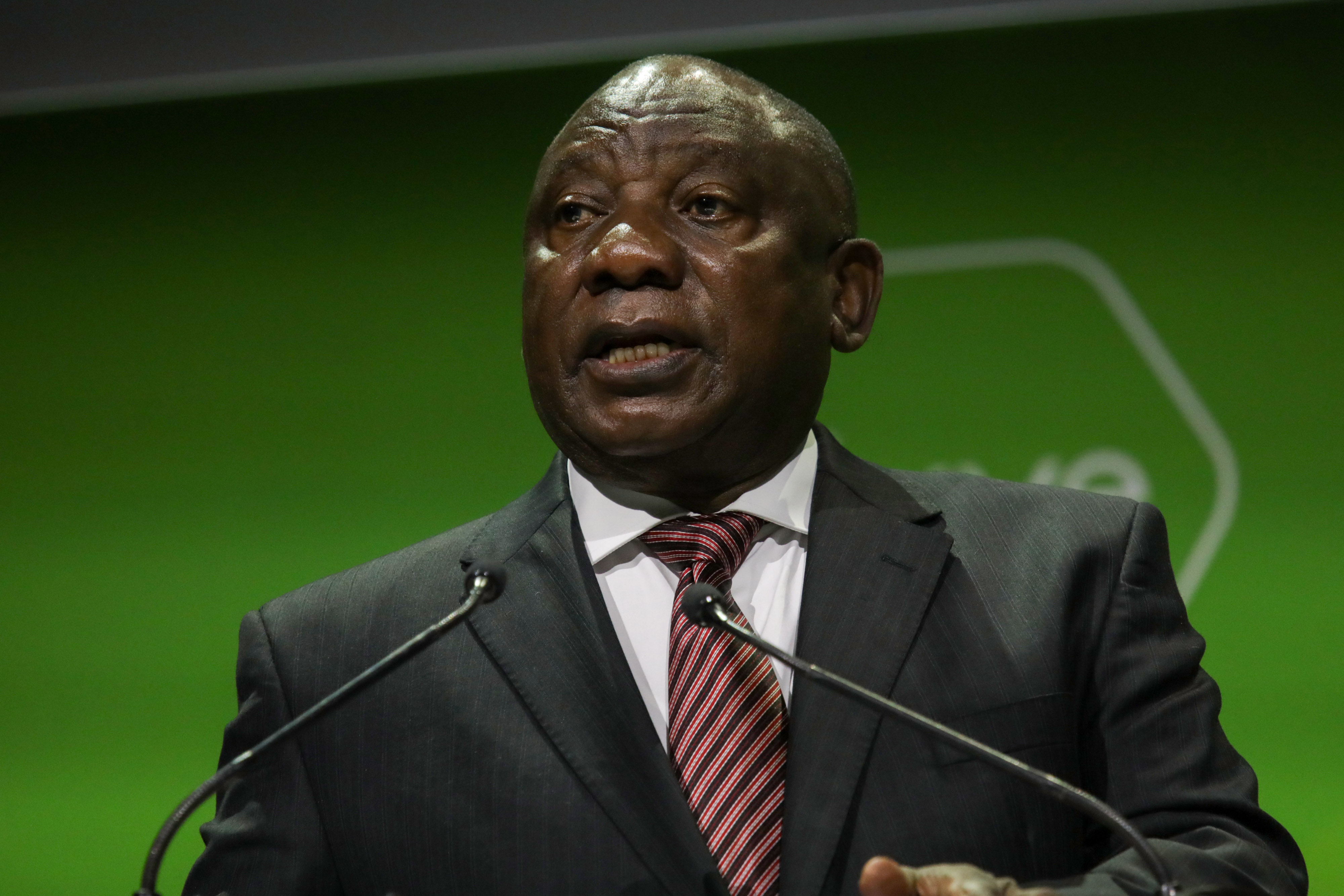 Highlights
South Africa's Presidency has unveiled a draft plan to draw more investment to help grow the economy and create jobs for the 34.5% of its labor force that's unemployed.
The "Country Investment Strategy" is aimed at creating a fully integrated and coordinated approach to investment through aligning government priorities and channeling investment towards areas with the greatest growth potential, per the Presidency.
Key industries being targeted for investment include finance, insurance, real estate, business services, logistics, manufacturing, mining, electricity, water, and agriculture.
Source: Bloomberg

Our Takeaway
South Africa's coronavirus-battered economy may have picked up momentum in the first quarter of the year, but is still struggling to recover from the pandemic's impact. Recent historic flooding in a key province and unprecedented power cuts have only made things worse, threatening recovery efforts. Major economic indicators are down and although the International Monetary Fund projects real GDP growth, adjusted for inflation, of 1.9% for South Africa in 2022, significant efforts are needed to avoid going into reverse.
Egypt's Appetito acquires Tunisia's Lamma for over $10m
Highlights
Egypt-based q-commerce Appetito has acquired Tunisia's Lamma to expand operations in Morocco, Tunisia, and West Africa in a deal valued at between $10 million to $15 million per TechCrunch.
Founded in 2020, Appetito delivers grocery and household products through its mobile app to customers from dark stores across 3 cities in Egypt. In parallel, Lamma, founded in 2021, has developed a similar q-commerce business in Tunisia and Morocco.
The founders of both startups have now reached an agreement to create a single entity, operating as "Appetito". The deal is expected to close by the end of Q3 2022.
Source: TechCrunch

Our Takeaway
Going by the number of mergers and acquisitions involving African startups announced so far this year, all signs point to a significant surge in the total number of exits and buyouts the region's ecosystem will record by the end of 2022. This trend is spread across the continent, with a number of acquisition deals reported outside leading tech hubs such as South Africa, Kenya, and Nigeria. The recent surge in consolidation activity in different parts of the continent is an indication of a maturing ecosystem.
---
South Africa's Talk360 raises $4m in seed round
Highlights
South Africa's Talk360, a leading Voice over Internet Protocol (VoIP) player in Africa, has raised $4 million in a seed funding round as it prepares to expand its business and set up a new payment platform for its Pan-African operations this year.
The funding was led by African venture capital investor HAVAÍC, 4Di Capital, and several fintech angel investors.
Talk360 enables users to make international calls through the app in exchange for a fee. The startup was founded in 2016 and has offices in South Africa, The Netherlands, India, and Nigeria.
Source: TechEconomy

Our Takeaway
Talk360's smartphone-based platform offers an easy-to-use digital service but its reach is somewhat limited by the fact that over half of Africans still lack access to the internet. Regardless, the startup has recorded impressive numbers, connecting up to 2 million people last year, and has paying users in 170 countries so far. That number should grow, driven by increased marketing efforts and expansion plans, which include setting up a hub in Kenya. The company's network of over 750,000 physical points of sale in partnerships with agents like Kenya's PesaPoint and South Africa's Flash also provides physical touchpoints, which is crucial to penetrating markets like Africa.
---
UAE-based Grubtech expands to Egypt
Highlights
UAE-headquartered foodtech startup Grubtech has expanded to Egypt and plans to invest $5 million into operations over the coming 12-16 months.
Founded in 2019, Grubtech offers an omnichannel point of sale (POS) solution, enabling restaurants and cloud kitchens to streamline their kitchen operations and takeout business, as well as providing them the opportunity to integrate with third-party food aggregators and build a digital presence.
Last year, GrubTech raised $13 million in a Series A round. Former country manager at Saudi on-demand delivery app Marsool, Osama Harfoush, will be leading its operations in Egypt.
Source: Wamda

Our Takeaway
Like most brick-and-mortar SMEs, small to mid-sized restaurants in emerging markets largely rely on pen and paper or ledgers for bookkeeping and recording important business data. This way of running a business can negatively affect business growth. Many technology startups are moving to bring these businesses online, by offering cloud-based business management tools. Grubtech is one such, targeting Egypt's growing restaurant industry. Globally, the cloud-based restaurant software market is currently valued at over $70 billion and is expected to reach $116 billion in the next four years.
CV VC launches seed fund for African blockchain startups
Highlights
Crypto Valley Venture Capital (CV VC) has announced the launch of its African Blockchain Early-Stage Fund and published the inaugural African Blockchain Report.
The study highlights that blockchain funding far outpaced all other sectors, 11 times, and demonstrates how nations and stakeholder capitalists are beginning to step in and embrace Africa's participation in the fourth industrial revolution.
While it is a fact that African nations are among the fastest crypto adopters globally, the CV VC report moves past crypto, looking at the underlying revolutionary blockchain movement.
Source: Zawya

Our Takeaway
In Africa, the emerging blockchain technology is being used in many innovative ways and in essential industries from tech, agriculture, mining, and remittances to inclusion, identity, and property, to name a few. The CV VC report estimates African blockchain funding last year at $127 million, similar in size to a single blockchain 'mega-deal' of which there were 59 globally, indicating a huge gap in funding. Africa is the fastest adopting crypto continent globally, yet it has only a 0.5% share of total global blockchain venture funding, which stands at $25.2 billion.
---
Visa partners Safaricom to support global digital payments via M-Pesa
Highlights
Visa and Safaricom, the operator of M-Pesa, have launched a virtual card that will enable millions of M-Pesa mobile money users to make digital payments globally, and give Visa extended reach across Africa.
The launch of the M-Pesa GlobalPay Visa card follows a partnership between the two companies in 2020 to develop "products that will support digital payments for M-Pesa customers."
The card will enable 30 million M-Pesa users to make cashless payments at Visa's global network of over 100 million merchants across 200 countries. Previously, they could only make payments within M-Pesa's network of nearly 400,000 merchants.
Source: TechCrunch

Our Takeaway
Per a GSMA report, Africa now accounts for 70% of the world's $1 trillion mobile money value after mobile money transactions on the continent rose 39% to $701.4 billion in 2021 from $495 billion in 2020. However, the bulk of these transactions is done within national borders as a lack of interoperability hampers cross-border transactions. Visa has been a key player in the growth of digital payments adoption in Africa, working with Nigeria's Paga and Kenya-based M-Pesa. But its new partnership opens up mobile money users in the continent to new possibilities while helping it tap into the fast-growing digital payments opportunity in Africa.
---
Nigerian digital bank Grey expands to Kenya with Cellulant partnership
Highlights
Nigerian startup Grey has announced the expansion of its service to Kenya, in partnership with fintech company Cellulant.
Launched in 2021, Grey offers an international money transfer service that enables its users to send and receive international payments without restrictions. Its products include foreign bank accounts, instant currency exchange, and international money transfers.
In partnership with Cellulant, the company's payments processor, the Y Combinator-backed fintech startup has expanded its services into East Africa, kicking off with Kenya. Kenyans can get paid in their preferred foreign currency and withdraw directly to M-Pesa or their local bank account.
Source: Disrupt Africa

Our Takeaway
In recent years, several digital banks have launched in Africa as they look to challenge incumbents in their respective markets. These startups don't operate a monolithic model. In Nigeria, for instance, players such as Sparkle provide banking services to individuals and businesses on a single platform, Brass and Prospa target varying sizes of businesses, while Kuda, VBank, FairMoney, and Carbon offer tailored services to individuals. Grey, however, is built around international money transfers. Currently, digital banks are among the most funded players by VCs in fintech.
SA e-commerce platform Shopstar secures further funding
Highlights
South African e-commerce platform Shopstar has secured its third round of funding as it begins the next phase in its strategy to scale.
Founded in 2014, Shopstar is a cloud-based e-commerce platform that enables local entrepreneurs to build online stores and grow their businesses by offering easy-to-use, professional services.
The fresh funding comes from Launch Africa Ventures, which has provided early-stage investment for over 60 high-potential African tech startups so far.
Source: Ventureburn

Our Takeaway
Shopstar's latest fundraising comes at a time when the e-commerce industry in South Africa, and the continent at large, is reaching new heights. Since the onset of the COVID-19 pandemic, up to 68% of South African consumers now shop more online and e-commerce in the southern African country has been accelerated by five years, per a December report from Heavy Chef. The pandemic-induced boom in Africa's digital economy is expected to continue its exponential growth trend with the continent's e-commerce value projected to quadruple by 2030.
---
African startups raised over $400m in May
Highlights
In May, African startups raised $437,100,000 across 49 fully disclosed deals according to data compiled by TechCabal.
Ranked by sector, fintech startups raised $195,900,000 (44.82%), AI/deeptech startups raised $47,000,000 (10.75%), and mobility/logistics startups raised $45,700,00 (10.46%). Meanwhile, West Africa led in terms of region with 37.47% of the amount raised.
The top 5 disclosed deals of May include Interswitch's $110 million raise, Paymob's $50 million Series B, Instabug's $46 million Series B, Jambo's $30 million raise, and Mara's $23 million funding.
Source: TechCabal

Our Takeaway
African startups raised more than $4 billion in 2021, in what was a record year for venture funding on the continent. This year, it took barely 7 weeks to reach their first $1 billion in 2022 through more than 130 deals, and after the first four months of the year, African startups had crossed the $2 billion mark. This has prompted predictions startup funding in Africa may reach $7-$8 billion at the end of 2022 if the trend is maintained especially considering the slowdown in global venture funding.
---
MTN names new executive to oversee digital banking
Highlights
The MTN Group has announced the appointment of Andrew Goodrich as Executive for Banktech in our Group Fintech team, which became effective as of 1 June 2022.
Andrew joined MTN in 2019 as a GM for Banktech & Beyond Payments division, where he has added value in executing the South African mobile telecommunications company's digital banking strategy.
Before he joined MTN Goodrich was a director at JUMO, a mobile money marketplace for people, small businesses, and mobile network operators. In 2015 he was the head of products and channels at Capitec, a South African retail bank.
Source: ITNewsAfrica

Our Takeaway
With more than 277 million subscribers in 20 countries in Africa, the $11 billion-valued MTN Group is currently on an expansion drive to become a fully-fledged technology services company with a core focus on digital banking through its mobile money service MoMo. The group currently offers a range of other services such as short-form video content (MTN Shortz), music streaming (Music Plus), and social media service (MTN Ayoba), in addition to voice and data. Last year, it valued its mobile money arm at about $5 billion and mentioned that it's considering a listing of that division.
Source: Ventureburn
Our Takeaway
To date, Untapped Global claims to have financed assets for over 5,000 entrepreneurs across a dozen countries in Africa and Latin America who work across sectors such as clean water, solar, e-mobility, and inclusive fintech. Companies such as Paga Group have worked with Untapped to make access to POS systems more affordable for SMEs throughout Africa.
🌍 Invest in Africa's best companies on daba
Image from daba website
At daba we believe that anyone should have the opportunity to invest in Africa's best private and public companies. We are building the first social investment mobile application to help investors of all levels find, discover and invest in the best African opportunities they believe in.
Download our e-book now on www.dabafinance.com
See you next week 👋
---